Typical Scottish weather, a wet and windy day
The weather forecast for the day ahead was that it would most likely rain for much of the day and quite windy, mostly into my face and this is indeed what happened. After two gorgeous sunny days with fantastic scenery, todays walk would have very little scenery due to the low rain clouds. I looked out of my cabin at Tyndrum and knew it would be a day of having the waterproofs on all day and looking for places along the twelve miles to shelter and have my lunch and some breaks. I was so glad to have walked the extra six miles the previous day as it meant a few less hours walking in the rain and into my hotel room to dry up earlier. This would not be a day for taking lots of photos, it was simply a case of getting from A to B.
There was no rush to leave Tyndrum in the morning, partly due to the weather but also because I had six less miles to do so I could take it a bit easier. I got a few things from the local shop and headed off, the first few miles being quite level ground, passing the wigwam site and then up through the trees, this seemed to be a lot steeper and longer than I had remembered and every time I thought I had reached the highest point, I would then turn a corner and the path would go up once again, I think my legs were probably still tired from the long day the previous day. When you eventually leave the woods and head downhill, you pass a picnic bench that gives you lovely views but not on a day like today, very soon you come to a point where you can turn off to walk down into Crianlarich if you are staying the night there or head onwards to Inverarnan, this would be about half way for today but the conditions meant it wasn't really the place to stop for lunch, I hoped there would be some shelter a bit further on.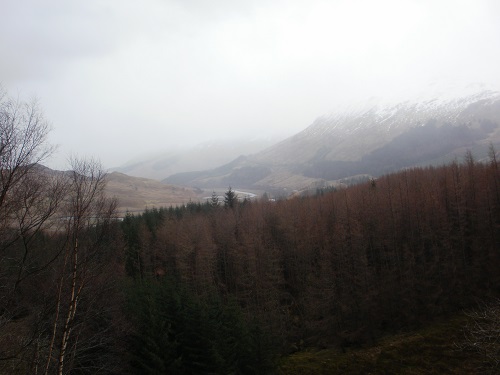 The section from this point is quite open to the elements which made the next few miles wet and windy and the path was quite wet and muddy in places. The path follows the main road quite high up before descending towards it, at this point I remembered that you go through a tunnel to get to the other side of the road. This would be a perfect place to stop for a while out of the wind and rain and have my lunch, there was no rush to get back out into the rain for the final few miles.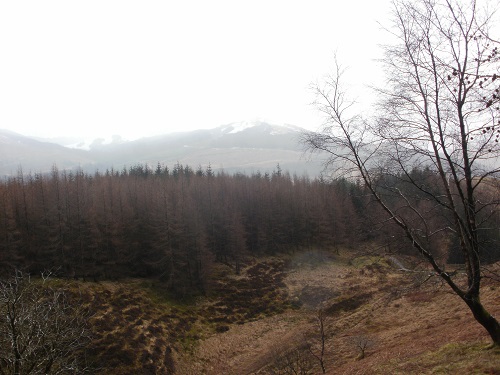 I would have liked to stay here out of the rain much longer but I had to head off, the final few miles being on quite good paths and not very hilly and the rain started to ease off. I passed through Beinglas campsite, where I have stayed in a tent or camping cabin before but they were closed for winter, including the shop sadly. My accommodation for the night was the Drovers Hotel, a short walk down a road from Beinglas Campsite, where I looked forward to getting out of my wet clothes, dry off and get something to eat in the pub. The accommodation is in two locations though and my room was over the road but I'd been upgraded from a single room to a double room which I appreciated although by the time I got changed, put my wet stuff on the radiators and relaxed, the thought of going back out into the rain over to the pub for something to eat didn't appeal to me so I ate the goodies that I'd bought in Tyndrum before I set off just incase I didn't fancy the pub that night. It wasn't the best day's walk that I've ever had but I'd had two gorgeous days before so I wasn't really complaining and I had a double bed tonight instead of being on bunk beds in my sleeping bag, I fell alseep quite easy this night and had a good sleep, hoping for a better days walk the next day as I walked along the shores of Loch Lomond.