A pleasant ending to a wonderful WHW
I woke up in my nice comfy bed and remembered the weather forecast the previous night promising snow, I looked outside and there wasn't any to be seen. Got myself ready and walked along to the Hotel to get my breakfast, I'd stayed here before and knew breakfast was a buffet where you help yourself, and you can bet that I did exactly that. Full up, I headed off and upwards to Conic Hill, noticing that there was a sprinkling of snow on the hill that wasn't there the day before and hoping it wouldn't be too deep or slippy. I had spikes with me but I was hoping for a straightforward day and quite an easy walk after the top at Conic Hill. The path goes up through trees, the views back down to Loch Lomond are very nice.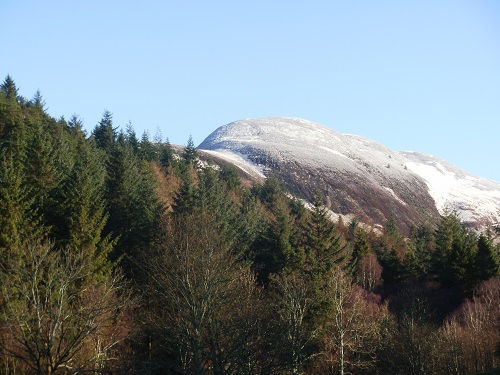 It wasn't that long before I started to get into the snow but it was quite thin and easy enough to walk in so I didn't bother taking time to put spikes on and then remove them a few minutes later. You don't actually reach the summit of Conic Hill unless you fancy a short detour, which I'd recommend on sunny days to get an even better view of the Loch but the views from the highest point of the path are just as good. Stop here and take a look back at the snow covered hills in the background for the last time as they will soon disapear as you start walking down the other side of Conic Hill and throught forestry tracks, although the forest seems to have mostly been chopped down. Ok, this means you get better views but the path is quite exposed now.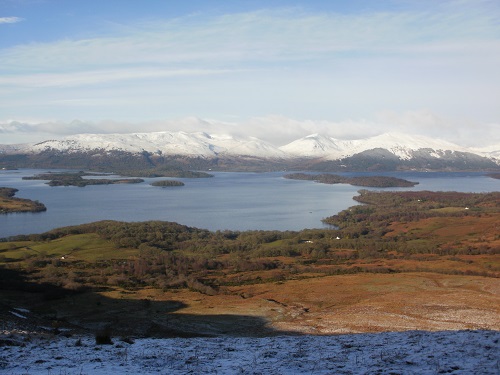 The path down Conic Hill soon turns into a wider forest track and then you start to descend towards the main road leading into Drymen where you have a choice. The West Highland Way follows the pavement for a short time then crosses the road and over a field before joining a road, you can go this way or continue along the pavement and into Drymen if you are staying the night there or just fancy stopping there for your lunch at the cafe or just getting a sandwich or snacks from the local shop and sitting on the bench just a few yards further on to eat it and have a break. If the weather is bad, sit in the big bus shelter. Ok, this maybe adds a mile or so onto your total journey but there's really nowhere else on this day to get anything to eat or a seat until a lot further on at the Beech Tree cafe where there are seats along the path.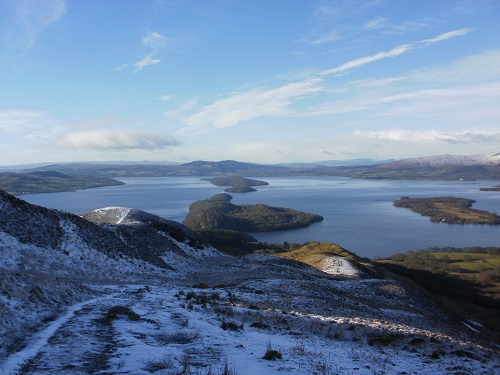 I wasn't going to head into Drymen but I was quite thirsty, probably because of my breakfast and didn't want to run out so decided to make the short detour to get something to drink plus pick up a few goodies and have a break. Just across from the bus shelter is a road that will take you to the main road again where you cross it, follow the road and you'll soon come to the point where the West Highland Way joins the road from the field beside it. A few miles of up and down road walking along a quiet county lane follows before you switch to walk along a disused railway line for quite a few miles. Not exactly very scenic to walk on but it's flat and not hard on your feet and after a while you will cross the main road carefully at the Beech Tree cafe, where you might fancy something to eat or drink or just a seat on one of the benches along the West Highland Way, I stopped for a rest.
By now, I was starting to count down the miles to go in my head and it felt like I was on the finishing straight and the weather was chilly but it was dry, none of the rain or snow that was predicted. Some more miles along the disused railway line before leaving it and heading nearer to the country park. A bit of road walking then through some forest tracks with houses in the middle of nowhere and into Mugdock country park, where I knew I only had a few miles to the finish as the signs kept telling me this. However, a sign would say 3 miles to Milngavie and then a little later another sign would still say it was 3 miles to Milngavie, grr.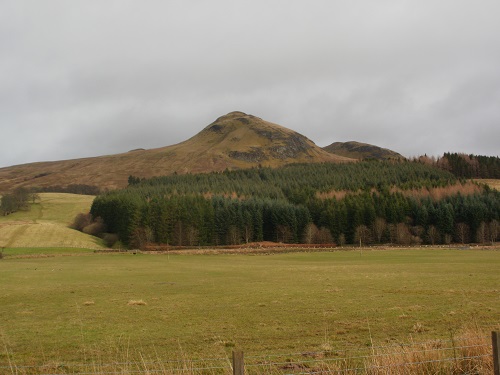 As you approach the country park, you start to notice all the Planes heading to and from Glasgow Airport and this reminds you that you are now leaving the peace and quiet of the previous ninety miles and back into the busy world. The last 3 miles seemed to drag on for ages through the park, all the little up's and down's and changes of direction made it seem longer. Eventually, I saw the end in sight and walked up the ramp to see the finish in front of me, The Obelisk. In my previous three West Highland Way walks, I had started from here about 8am on a Sunday with not many people around but today I was finishing on a weekday and into a very busy shopping precinct. I settled down into a bench at the finish for a few moments to reflect on my walk before heading off to the Railway Station to start planning my next big walks and back to normality again after five wonderful days in the Highlands.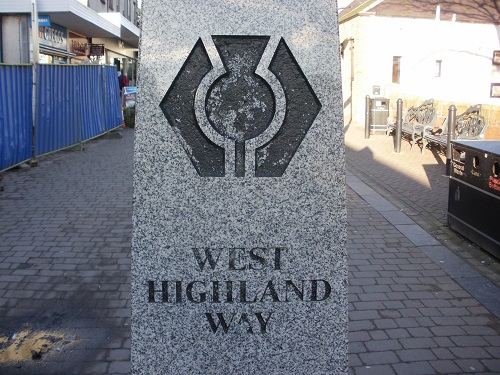 The West Highland Way - Final Thoughts
I wanted to walk the opposite way than my previous three West Highland Way walks so that the scenery would be different and it was. I didn't want to just feel like I was walking the same old route again, I wanted it to feel different, and that's how it felt to me. The big bonus for me was the first two days in the hilly parts of the walk where I was fortunate enough to have great sunny days with fantastic scenery, I couldn't have asked for more. The downside about walking from North to South though is that I feel the best bits are at the Fort William end and it's not as exciting after Loch Lomond is reached, I think I'd have been happy finishing at Inverarnan and then going somewhere else for a couple of days walking. Walking from South to North means heading towards the hills and the better scenery, although in my case the weather would have been poor by the time I reached the higher parts and I wouldn't have witnessed the beautiful scenery that I saw. I have no doubt that I'll walk the West Highland Way again but who knows what direction I will take, or what time of the year I shall start?
I hope you have enjoyed reading about my West Highland Way and will do the walk yourself and maybe I will read all about your walk. It's not just a case of walking from A to B, the West Highland Way is a fantastic experience, you'll meet interesting people as well as some spectacular scenery along the way and you will feel pride afterwards, thank you for reading my story.