The not so bonny bonny banks of Loch Lomond
I woke up after a good sleep and headed over to the Hotel to have my breakfast, it was nice to have something cooked for breakfast for a change. Todays weather forecast was for it to be a showery day but at least the wind would mostly be behind me this day as I would be walking around one side of Loch Lomond for nearly all of the day after a couple of miles walk from Inverarnan. It would be a day where I'd wear waterproofs all day rather than having to keep stopping to put them on and then take them off again but it wasn't very warm so I was never going to overheat.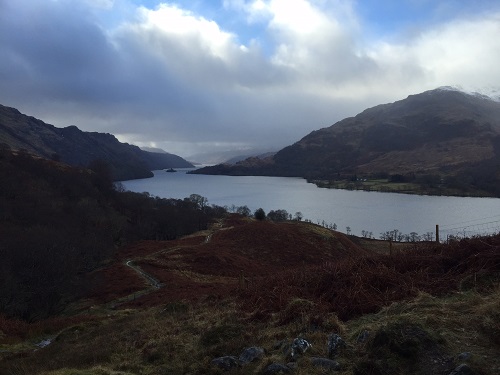 I set off from the Drovers Inn, through Beinglas campsite and onwards the couple of miles to Loch Lomond, the paths being quite narrow and the recent rain meant that they were more like rivers than paths as the water flowed down them. It wasn't very long before Loch Lomond was in my sights although it was a grey scene rather different to the bright sunny day that I enjoyed the last time I walked round it. The rain was still around but the wind behind me meant that I didn't feel it anything like the previous day. The next section of path along Loch Lomond is not the best of paths, it's quite rocky in places which can be slippy but it's just generally quite slow going for the next five or six miles.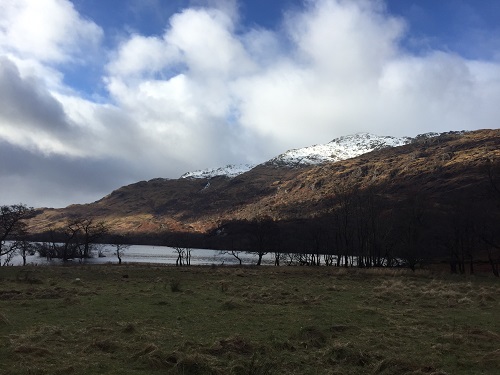 The path passes the Inversnaid Hotel along this section and I decided to stop for a break out of the wind and rain and enjoy a comfy seat and a nice pint. I had only walked about six miles though and had a long way to go so I couldn't stay too long but it would have been a shame to pass by a pub and not sample a pint. There were another couple of miles of uneven rocky path to endure first though before the path widened and became a track and a pleasant walk for a few miles through the trees, gaining height before descending again towards Rowardennen.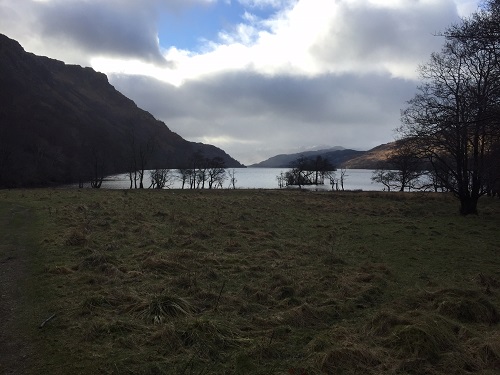 I somehow managed to pass by the pub without sampling another pint, mainly because the showers were getting heavier and I just wanted to get to my Hotel in Balmaha sooner and get dried up. The next seven miles or so were mostly up and down through woods but on good paths until I reached a part where the path was across a bit of beach. In front of me was a small stream heading into the loch that was wider than it used to be, probably eroded during the winters rains, I had the choice of paddling a few steps through it in my boots or taking them off, or walking bak the short distance and heading along the road to miss out this small section. I didn't fancy wet feet for the last few miles or wasting time removing socks and boots and then putting them back on in the pouring rain so I turned back the short distance and picked the wise move along the road.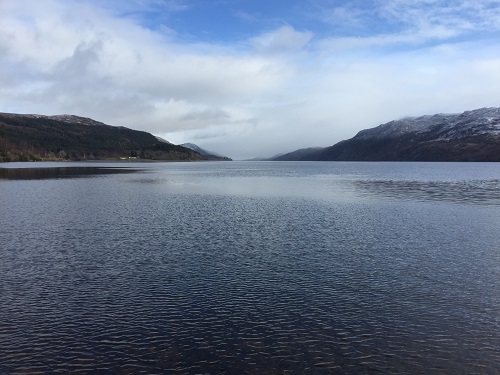 The last few miles seemed a lot longer because I kept seeing caravans and thinking it was Milarochy campsite which I knew was only a mile or so from Balmaha but each time it turned out to be somewhere different. By now the rain had got heavier and I just wanted to get to my Hotel room and out of my wet gear. My intial plan was to get to the Hotel, have a pub meal and just relax but the wetter I got, the more appealing the thought of just going to the shop beside the Hotel and getting a few goodies for the evening and just relaxing in my room, got. Eventually I passed by Milarochy and the final mile or so up and down to Balmaha, noting that Conic Hill whish I'd be walking up early next day was free of snow. I reached the Hotel a bit soggy but smiling and was told that I'd been upgraded to a "superior" double room rather than a single room, my smile got bigger. The downside to this was that the room was not in the actual Hotel itself but a couple hundreds yards away in a cottage, there was no way I would be walking back in the rain to have a pub meal so I stocked up on goodies from the shop as I passed and into my room. It was one of those days where you close the door and get out of your wet clothes at the door.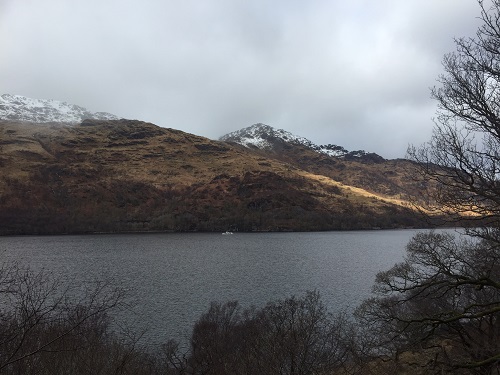 Wet clothes off and on the radiators, dry clothes on and relax on a huge bed to eat my snacks, use the wifi and watch TV knowing that tomorrow would be the last day of the West Highland Way and after the initial climb up Conic Hill, it would be quite easy from there. The weather forecast predicted quite heavy snow for that night and the next day....oh great, not what I wanted to hear.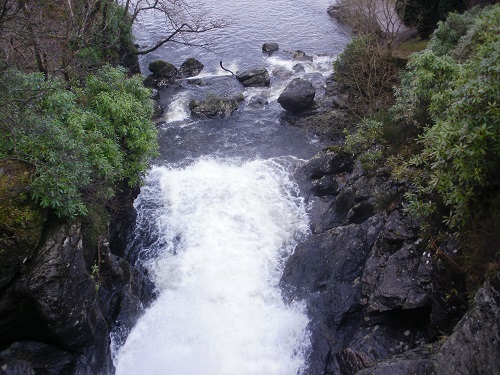 Click here to go to Day 5 - Balmaha to Milngavie (the finish)